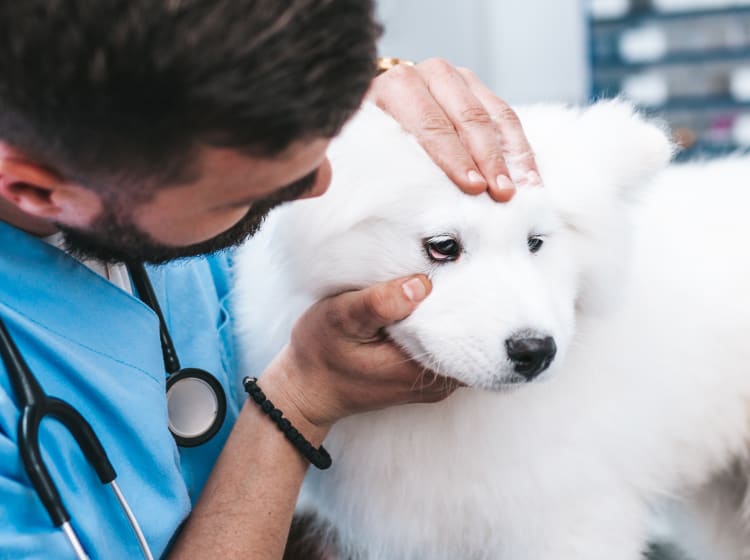 OFA Examinations
Genetic abnormalities can cause serious issues with your pet's eyes later in life. At Columbia River Veterinary Specialists, one of our ophthalmologists' goals is to reduce the number of eye problems that arise as a result of these abnormalities. 
In an effort to accomplish this goal, our vets perform screening eye exams for purebred dogs that are being used for breeding purposes. 
These are referred to as OFA (Orthopedic Foundation for Animals) examinations. We recommend annual examinations since many genetic eye issues are acquired and may not appear until middle or older age. 
We can administer exams for single dogs or litters of puppies. These examinations are screening examinations only and are distinct from examinations performed to evaluate a known eye issue. 
The OFA Exam Process 
Dogs coming for OFA examinations arrive 30 minutes early for paperwork and to allow time for maximal pupillary dilation.
Owners and/or breeders of dogs coming for OFA examinations should bring the registered name, date of birth, sex, breed/variety, registration number and, if applicable, permanent identification (microchip number or tattoo of the dog). There are places on the OFA form for these numbers.
The Eye Certification screening exam consists of indirect ophthalmoscopy and slit lamp biomicroscopy. A more comprehensive ocular exam may be recommended if a serious ocular health problem is suspected.
Lastly, if you are interested in an OFA clinic please contact us for availability.